Developing future technologies for over 40 years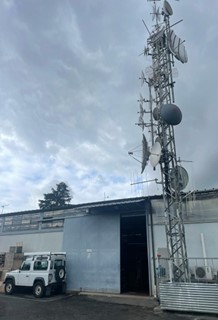 Installation and maintenance equipments for telecommunication.
You can obtain information about equipments, antennas and rechanges, like Tubes RF and much more. Get in the sections with the menù on the left.
Photo headquarters
Tecnicom S.r.l. was founded in 1982 in Rome, Italy and happens to be one of the leading companies in the field of radio and television systems installations and maintenance.Over the last few years, thanks to its own peculiar technical abilities and in full compliance with the telecommunications market trends, we naturally have decided to get involved in the mobile phone challenging market. This also includes satellite networks as well as cabling and networking obtaining more and more credits which, in turn, allowed the strengthening of our interpersonal relationships with our paramount customers in all these market areas.
Tecnicom S.r.l. has regularly and constantly been committed to reinforcing and enhancing the quality standards of its inner organization in order to adapt and match the endless technological progress along with the fulfilment of plants and systems which fully comply with 626/94 norms and rules. Thanks to all the related certifications such as the 46/90 one, we were granted the Quality System Certification in December 2001, as per UNI EN ISO 9001-2015 Certificate norms, registered under N°666 regarding the following activities:
· Radio and television systems installation and maintenance;
· Mobile phone and Wi-Fi mobile networks installation and maintenance;
· Installations and network connections to the fibre optic broadband via satellite dishes.
SERVICES
Storage warehouse, distribution and sale of materials as well as electric and electronic components and parts for radio, television and any other means of broadcasting. Looking more specifically into our commercial activity and its many peculiarities and specializations, Tecnicom S.r.l. does stand out when it comes to deal with radio, television and mobile phone plants and systems: Fulfilment, Realization, Installations, Maintenance and Assistance.
COMMERCIAL AREA
Created in 1982 and thanks to its credited know-how and professionalism, Tecnicom S.r.l. is delighted to offer its field operators the sale of a wide range of products which have proved to be more and more reliable over the years. Tecnicom S.r.l. is tailored to sell and assist its customers as far as the following products are concerned: Devices, Antenna systems and satellite dishes.
OUR CONTACT DETAILS Mr. Gabriele Valente, Commercial and General Affairs Manager
(Mobile: +39 346 2227232 | E-mail: gabrielevalente.tecnicom@gmail.com)